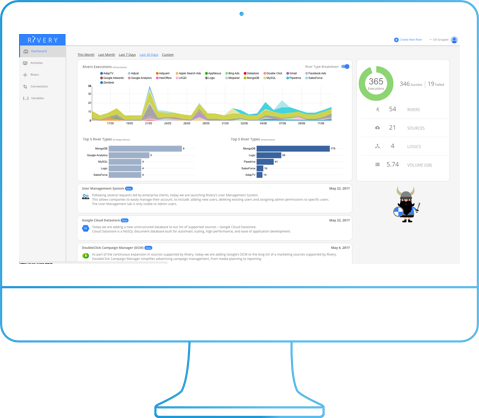 Rivery is an intuitive data integration platform that aggregates and transforms all your internal and external data sources in a single cloud-based solution.
Now you can automate every ETL process for cloud data warehouses, including Redshift, BigQuery, Azure, or Snowflake.
As a flexible code-free solution, Rivery empowers business intelligence and data teams to focus on analysis and insights, while leaving data pipeline maintenance solely to us.
Making Your Data Work For You
In a world where most companies lack the technical resources to achieve data supremacy, Rivery handles all the back-end development, enabling teams from across a company to cement competitive advantages.
Speed
Create your data pipeline in minutes, not hours or days. Harness Rivery's pre-built connectors to add data sources instantly.
Cost-Savings
Eliminate the high costs required to build and maintain data pipelines. Forget the expensive engineering work: focus entirely on interpreting business intelligence.
Seamlessness
Set up a complete data pipeline in a few clicks. Connect with any data source, internal or external, with custom-built integrations.